Transform Your Life With The Unravelling Inwards Membership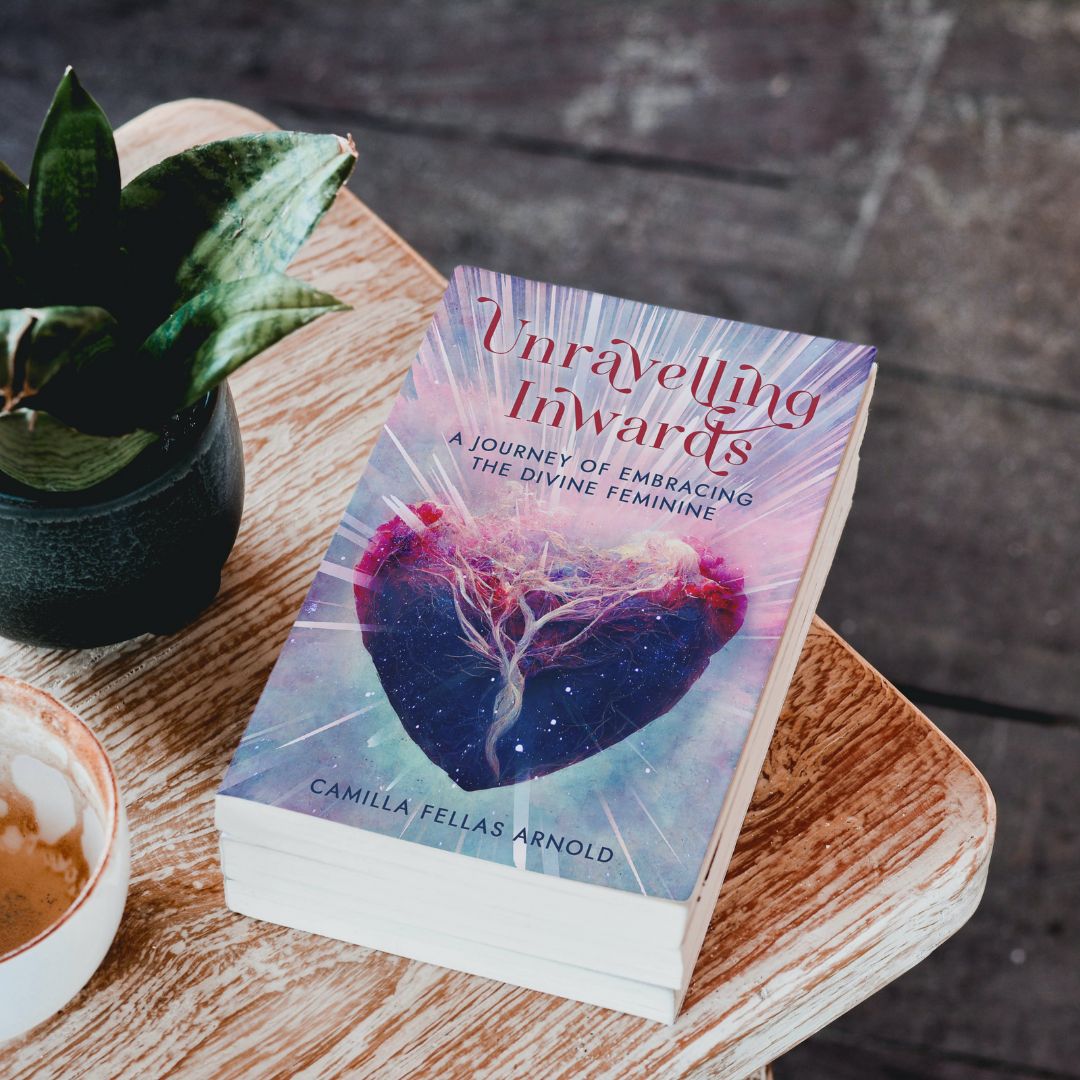 Unravelling Inwards is a powerful and transformative guide to healing and self-discovery. Through her own personal journey, author Camilla Fellas Arnold offers readers an inspiring roadmap for overcoming life's challenges and embracing their authentic selves.
At the heart of the book is the concept of the divine feminine, and how women can tap into the wisdom of the goddess archetypes to reclaim their power and transform their lives. Camilla takes readers on a journey through the three stages of the healing process – exhumation, healing, and reclamation – sharing her own struggles with panic attacks, depression, and societal expectations along the way. Through this journey, readers will gain insight into the four phases of the feminine, and the goddesses associated with each phase, learning how to integrate their wisdom into their own lives.
Unravelling Inwards is a beautifully written and deeply moving book that offers hope, inspiration, and practical guidance to anyone seeking to heal and grow. Camilla's honest and vulnerable storytelling will resonate with readers who have struggled with mental health issues, relationship challenges, or a sense of disconnection from their true selves.
Whether you're just starting your healing journey or looking for new insights and tools to deepen your practice, this is an essential guidebook for anyone seeking to live a more fulfilling and authentic life. With its powerful message of self-love and transformation, this book is a must-read for anyone interested in the divine feminine, self-help, or personal growth.
Verified
A captivating journey of transformation Once I started reading this fascinating and enlightening book, I couldn't stop. Camilla's skill at weaving her story into a multi layered journey of discovery into the Devine feminine is captivating. This is much more than a book you read once; it is a keepsake; a guide that invites you to explore your own journey of unravelling inwards. As each chapter unfolds Camilla shares her experiences whilst simultaneously revealing a roadmap for you to navigate your own transformation.
Verified
Beautiful and inspiring This is a beautifully written book that I found really hard to put down. Once I started I just wanted to keep reading and I ended up reading it all in a day and a half (there's nearly 400 pages). By the end, I felt inspired and powerful as a woman.
Julia McFarland
07/11/2023
Verified
That this gives you practical advice and food for thought on a voyage of self discovery This was such an interesting read. It challenges the way women, in particular view themselves and gives you the tools to challenge yourself and take steps towards your true self. Such a worthy journey and a transformational one.
"This book wasn't meant to be the expert journey, it was meant to be the wobbly path carved from the rock as I go. It is intended to be a rough guide and a beacon, for those who are full of fear yet know they can't stay where they are."
About Camilla
Camilla Fellas Arnold is an executive coach, mentor and creativity facilitator
Camilla Fellas Arnold is an executive coach, mentor and creativity facilitator who excels at helping people align to their soul purpose and unlock their creative gifts by combining subconscious tools with the Chinese five elements and creative cycle. Camilla believes that creativity is a fundamental component of self-expression. She knows that taking a holistic approach in aligning to our authentic selves, allows us to embrace powerful creative flow, freedom from our limiting beliefs and find our true purpose in life.

Camilla has worked in the creative industries for over a decade across multi-disciplines and is an international bestselling author. Currently, she is training in more subconscious and holistic tools as well as developing programmes to provide better mental and emotional support "for creatives and creative coaches to add to their toolkit to shift the narrative of the suffering/starving artist to creative joy, flow and abundance within the creative industries.

Camilla has been awarded an ILM Level 7 Diploma for Executive and Senior Level Coaches and Mentors and is an EMCC UK Accredited Senior Practitioner. Camilla holds a bachelor's degree in design for publishing and a master's degree in communication design from NUA. She holds membership with the International Society of Typographic Designers and is an RSA Fellow.

When she is not coaching and mentoring, Camilla can be found writing poetry, having afternoon tea or creating fun photoshoots for her Shetland Sheepdogs as part of her passion project I Love Shelties to create awareness for the breed and raise funds for charity.
Praise for Unravelling Inwards
A beautifully honest and eloquent account of one woman's healing journey and finding her own truth. The book is an empowering invitation for other women to join her as she elaborates on the how and the why.
At several points, I found myself re-reading a line over and over again as I let it sink in, as if such simple and important sentiments had never been phrased in such a concise and understandable way before. It was like opening my eyes to something that had always been in front of me. Camilla has done something profoundly important with this book.
You've read the book, now go on the journey
Transform Your Life With The Unravelling Inwards Membership